2024 Annual Sam Thompson Memorial Foundation's Stallion Service Auction
2024 stallion service online auction will
begin on November 1st, 2023 and
end on January 8th, 2024.
You must Register to bid on the auctions.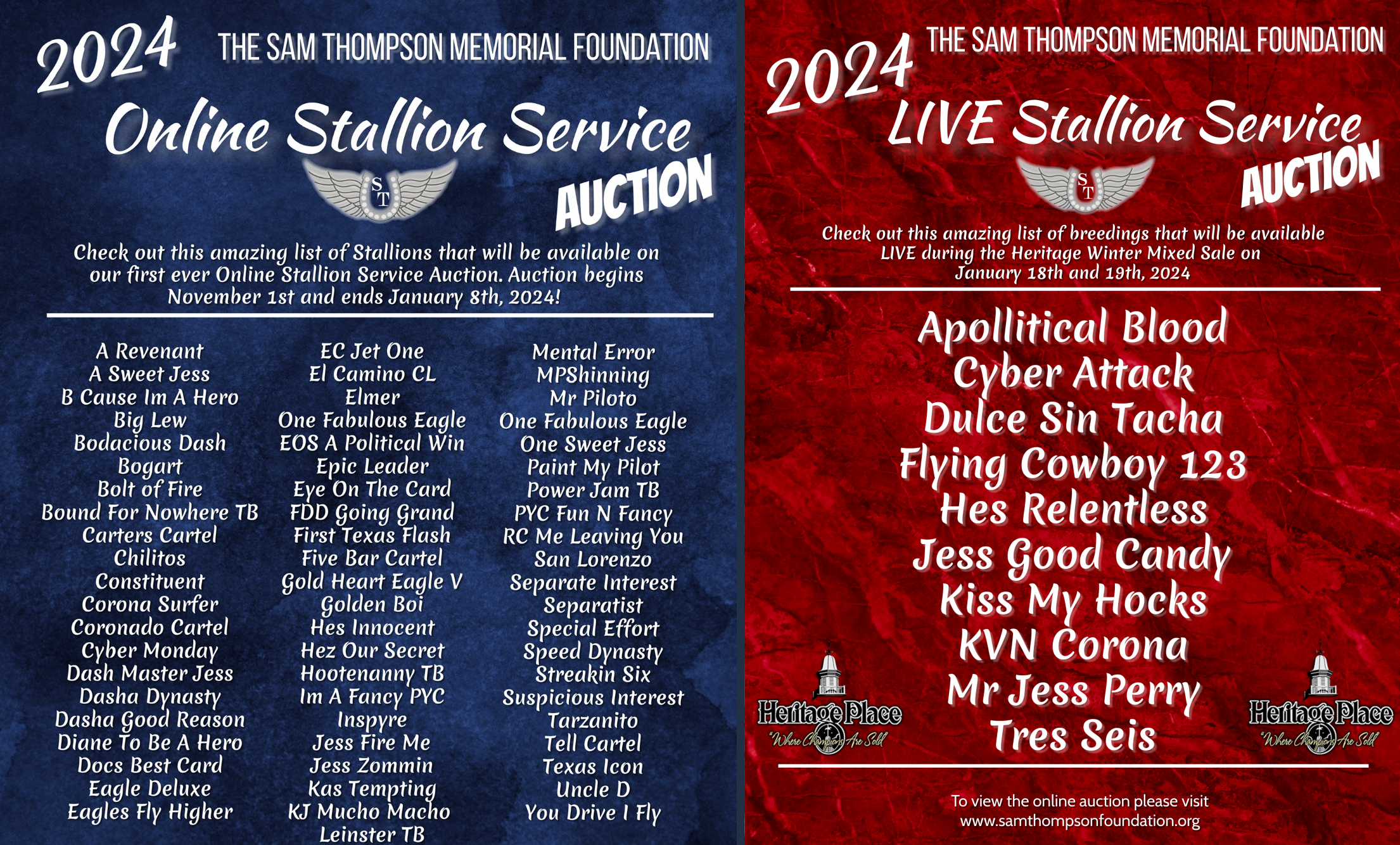 The Sam Thompson Memorial Foundation is excited to launch its first online stallion service auction. All money raised will go directly to scholarships for those in our horse racing community. To date we have given over $500,000 in scholarships over the past few years to help those follow their dreams and continue their education. This online stallion service auction provides a great way for horsemen across the nation to acquire breedings for 2024 to some of the greatest stallions.
All stallions donated will be featured on our website, this auction page, and advertised at upcoming foundation events. Links are provided by each horse to their StallionESearch page (if one exists) to help bidders get additional information on each stallion. If one doesn't exist we will do our best to provide the best information possible. Any special or additional information regarding certain breedings can be found on the auction page for each stallion. Please make sure to read all important information. Buyers are responsible to pay for all other expenses (farm fee, chute fee, shipping fees, etc.) that may be charged by the stallion farm.
The highest bidders will be notified, payment will be collected, and the stallion farms will be notified once payment has processed (no more than 48 hours after). All bidding will be done online. There will be a secondary stallion service auction that will occur live at the Heritage Winter Mixed Sale with a different group of select stallions.
Registration and Bidding Information – All bidders will be required to register on the website before placing a bid. This auction requires a credit card to bid, all information will be kept secure and encrypted. Bidders will be notified via email and/or SMS text message when they have been outbid on a breeding and/or won a breeding. Upon the completion of the auction, you will have the option to pay via Credit Card (with a processing fee) or you may contact us within 48 hours to arrange for a wire transfer or check payment (without a processing fee).
You must Register to bid on the auctions.