The Sam Thompson Memorial Bronze Unveiled!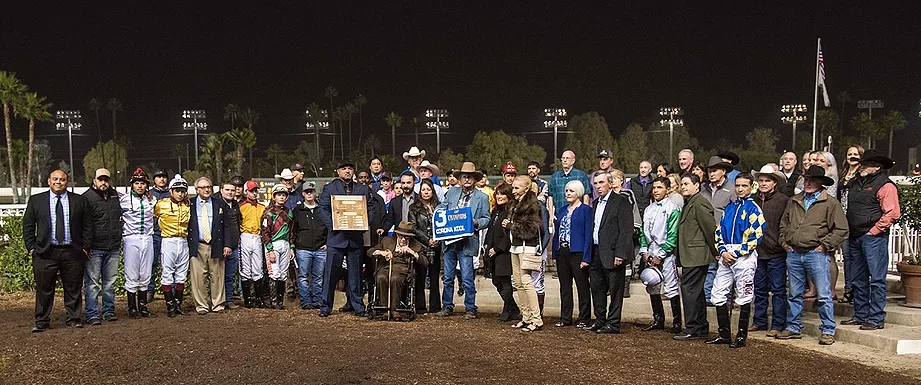 On December 10th, 2016, The Sam Thompson Memorial Foundation for Disabled Jockeys was proud to present a "Bronze" of Sam riding Corona Kool and a plaque of donors for permanent display to Los Alamitos Race Track.
The celebration was attended by the "Bronze" artist, Jim Stukenberg, jockeys, Los Alamitos management, and donors. A touching tribute to Sam was delivered and served as a inspiration to all who were in attendance.
About the Bronze
The Sam Thompson Foundation is honored to have Jim as the creator of Sam's bronze. It will depict Sam Thompson riding Corona Kool in her victory in the 1999 Los Alamitos Million Futurity. The bronze honoring Sam and his incredible contributions to the racing industry will be on permanent display at the Los Alamitos Race Track. Thanks due in large support of the management of Los Alamitos and supporters like you.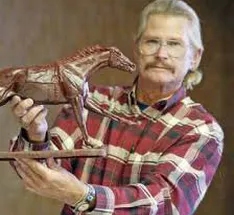 .About the Artist
Jim Stuckenberg is one of the most widely recognized Western artists since Frederic Remington. An avid horse lover as far back as Jim can recall, he began his equine art career as a youngster, but his drawings took on more depth when he was given his first American Quarter Horse. Nowadays, his paintings and bronzes are on display in museums throughout the country. Perhaps his most famous and ardent supporter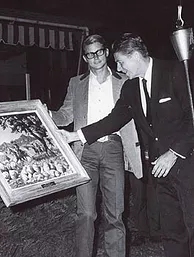 was former President Ronald Regan!
Jim, who as born deaf, never let that affect his dreams and his career. For example, he was a bull rider in college and the rodeo clowns would have to wave a flag to let him know when the 8 second bell had rung because otherwise Jim would just keep riding. In 2006, Jim was chosen by the AQHA Racing Commission to create the "World Champion Trophy." For more information on Jim, please visit his website:jimstuckenberg.com
For more information regarding the purchase of the very limited edition of the "Bronze" or to make a donation to The Foundation, please fill-out the form below:
[contact-form-7 id="38″ title="Contact form 1″]